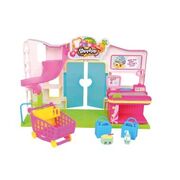 The Small Mart is a Shopkins playset released in Season One.
Characters
Description
Go on a Shopkins™ spree and shop till you drop with the Shopkins™ Small Mart! Slide your characters down the delivery chute and then have some fun on the treadmill register at the check out counter! Complete with 2 exclusive characters and a shopping trolley. Collect them all!
Trivia
In the early Shopkins Webisodes, the Small Mart is a major setting.
The name "Small Mart" is possibly a play on the store, Walmart.
Gallery