Hello! I am JustineCarl5 aka Justine Carl Mercado. You could just call me JC if you want (that's my nickname whenever they call me.) I only have 14 Shopkins, but I'm planning to buy more. I will try to do my best contributing to this wiki always. I hope all of you accepts me. Make sure to mix up happiness in this wiki always! 😊😊😊☺
My Favorite Shopkins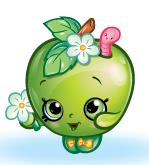 Even though I only have 14 Shopkins, these are my faves.
Season 1:
Apple Blossom
Kooky Cookie
Cheeky Chocolate
Soda Pops
Cool Cube
Cupcake Queen
Dollops
Popsi-cool
Sally Shakes
Season 2:
Toasty Pop
Choco Lava
Pamela Pancake
Lenny Lime
Dum Mee Mee
Shampoo Sue
Zappy Microwave
Olivia Oil
Mary Meringue
Season 3:
Suzie Sundae
Peachy
Wendy Wedding Cake
Chelsea Charm
Secret Sally
Super Celery
Chocky Box
Choc Kiss
Ginger Fred
Season 4:
Kris P Lettuce
April Apricot
Tammy TV
Milk Bud
Little Pet Collar
Marty Party Hat
Pretty Bow Kay
Pup E House
Season 5:
Creamy Cookie Cupcake
Bailey Baseball Glove
Translucent Spilt Milk Charm
Fortune Stella
Tiny Tissues
Lola Roller Blade
Gabby Gamer
Connie Console
Season 6:
Cupcake Princess
V. Nilla Tubs
Bessie Bowl
Small Fry Pan
Freda Frosting
Pippa Lemon
Buncho Bananas
Choc-Kate Sundae
Veronica Veggie Pizza
Sami Scrambles
Barbie Breakfast Muffin
Tegan Tea
Favorite Shoppies:
Invented Shopkins:
This is the list of Shopkins I invented. (but no pictures/drawings)
Medi-Cindy
Betty-dine
Bailey Bandage
Cup-Kate
Choco-Lita
Cara-Mely Apple
Mandy Cane (pun for Candy Cane)
Kiara Tiara
Katie Stand (pun for Cake Stand)
Flashy Light
Sandra-Flower (pun for Sunflower)
Bart-Gainvillea
Flora-Chid (pun for Orchid)
Tommy-Atoe Sauce
Silly-Phone
Teri Blossom (pun for Cherry Blossom)
Amber-Ella
Kaye-pad
Betty Burger Bun
Penny Patty
Tim-atoe
Lot-tuce
Charbel Cucumber
Sam-burger
Harry Hotdog Bun
B-Ana-na Ketchup
Milly Mustard
Holly Hotdog
Henry Hotdog Sandwich
Willy Wrapper
Peta Plate
Wine-ona
Ben Pen
The Pledge:
Even though I'm not living in USA, here's my version of the pledge:
I pledge allegiance to the frosting,
Of the United Batter of the Cupcake,
And to the plate for which it stands,
One cupcake under Cupcake Princess, Untieable bow,
With tiaras and sprinkles for all.
Community content is available under
CC-BY-SA
unless otherwise noted.