(Was formerly ShopkinsAddict)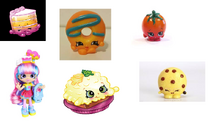 Hi, welcome to my profile. I am a YouTube loving, wiki-editing human that partially lives on the Internet. Please do not spam, cyberbully, or curse on my page. I want this wiki to be a better place (it is still amazing :D)! I am also an admin, so message me if you need assistance!
Seasons in order of my favorite to least favorite: At this rate, there are so many, and in most aspects they keep getting better as they go. Favorite: I don't know. Least favorite: Season Three
You can also find me on Stupidity wiki! I am very active there. I am also active on Shopkins Fan Wiki.
My favorite Shopkins
My created Shopkins families
Cupcake family:
Mr. Muffin: dad
Mary Wishes: mom
Cupcake chic: older daughter
Patty Cake: younger daughter
Royal Cupcake: pet
Cookie family:
Cream E Cookie: dad
Kooky Cookie: mom
Candy Cookie: daughter
Cookie nut: son
Stacks Cookie: aunt
Choc 'N Chip: cousins
Phone family:
Mobile Mary: mom
Chatter: older daughter
Smarty phone: younger daughter
There is currently no father
Donut Family:
Chrissy Cream: father
Daisy Donut: mom
D'lish Donut: oldest daughter
Dolly Donut (season 4): middle daughter
Rolly Donut: youngest daughter
Dolly Donut (season 5): pet
Dippy Donut: aunt
Chocolate Family;
Chocky Box: father
Choc Kiss: mother
Cheeky Chocolate: daughter
Choc Chips: son
Rockin' Choc: pet
Charli Chocblock and So Grate Chocolate: cousins
Sugar/spices Family:
Dusty Cocoa: father
Kane Sugar: mother
Iris Icing Sugar: oldest daughter
Cassie Caster Sugar: middle daughter
Sugar Lump: youngest daughter
Tomato Family:
Papa Tomato: grandfather
Roma Tomato: mother
Cherie Tomato: daughter
Tracey Tomato: pet
Cheese Family:
Chee Zee: father
Swiss Miss: mother
Bella Mozzarella: daughter
Parmesan Pete: son
Charlie Cheese: uncle
Other relations include:
Croissant d'or and Chocky Croissant: father and son
Miss Mushy moo and Milly Mushroom: Mother and daughter
Cute fruit jello and jiggly jelly: Mother and daughter (Wobbles is the older sister, there is currently no father.)
Apple Blossom and Adam Apple: Mother and son
Le'Quorice and Miss Twist: Mother and daughter
My shopkins couples!
Olivia Oil and Wally Water (Married)
Miss Pressy and Marty Party Hat (Married)
Pamela Pancake and Pancake Jake
Heels and Sneaky Wedge
Candy Cookie and Ginger Fred
Dolly Donut and Berry Smoothie
Sadie Soccerball and Dennis Bat
Cake Pop and Mintee
Cheese Louise and Nilla Slice
Tutucute and Piano Man
April Apricot and Tiny Tree
Sprinkle Lee Cake and Toasty Bread
Corny Cob and Super Celery
Community content is available under
CC-BY-SA
unless otherwise noted.